Step aside, mere mortals, and make way for the legendary gladiators of the gridiron! When it comes to the NFL, there's elite, and then there's elite elite. We're talking about those players whose mere presence on the field caused opponents to quiver in their cleats. Ready for a quirky journey through the pantheon of the greatest NFL Players of All Time? Let's rumble!
1. Tom Brady, QB (2000-2022)
What do you get when you cross superhuman skills with the agelessness of a Greek god? Why, you get Tom Brady, of course! He's not just among the top NFL Players of All Time, he's practically the ruler of the roost. Multiple Super Bowl rings and an undying will to win, Brady is like that wine that gets better with age… and we're all here for it!
2. Jerry Rice, WR (1985-04)
Jerry wasn't just nice on the field, he was Rice. Master of the end zone dance and the unparalleled catch, Jerry Rice is the wide receiver we didn't deserve but desperately needed. Anytime anyone lists the NFL Players of All Time, this man's always in the mix, and not just for his legendary touchdowns but for his killer moves both on and off the field.
3. Jim Brown, RB (1957-1965)
Jim Brown was less of a running back and more of a steamrolling juggernaut. Hand him the ball and watch the magic unfold. Even the toughest defenses were left in awe of his skills. Deservedly among the greatest NFL Players of All Time, Brown's style was pure poetry in bruising motion.
4. Walter Payton, RB (1975-1987)
Sweetness wasn't just a nickname for Walter Payton; it was a way of life. With a mix of grit and grace, he danced past defenders, making it look oh-so-easy. Payton's spot among the most iconic NFL Players of All Time is as sweet as the man himself.
5. Peyton Manning, QB (1998-2015)
Some QBs have the arm, some have the charisma, Peyton had it ALL – plus the brains to boot. When you talk about cerebral NFL Players of All Time, Manning tops the chart. His on-field analysis and audibles were the stuff of legend. "Omaha!" anyone?
6. Lawrence Taylor, LB (1981-1993)
LT brought the razzmatazz to defense. Sacking QBs and causing offensive coordinators to lose sleep, Taylor was the literal nightmare every offense feared. Truly, when listing the most dominant NFL Players of All Time, LT's not just in the conversation, he's leading it.
7. Reggie White, DE (1985-1998, 2000)
Reggie White was more than just a player; he was an entire movement. Dominant, fierce, and unstoppable, White's place amongst the top NFL Players of All Time is as solid as his tackles.
8. Barry Sanders, RB (1989-1998)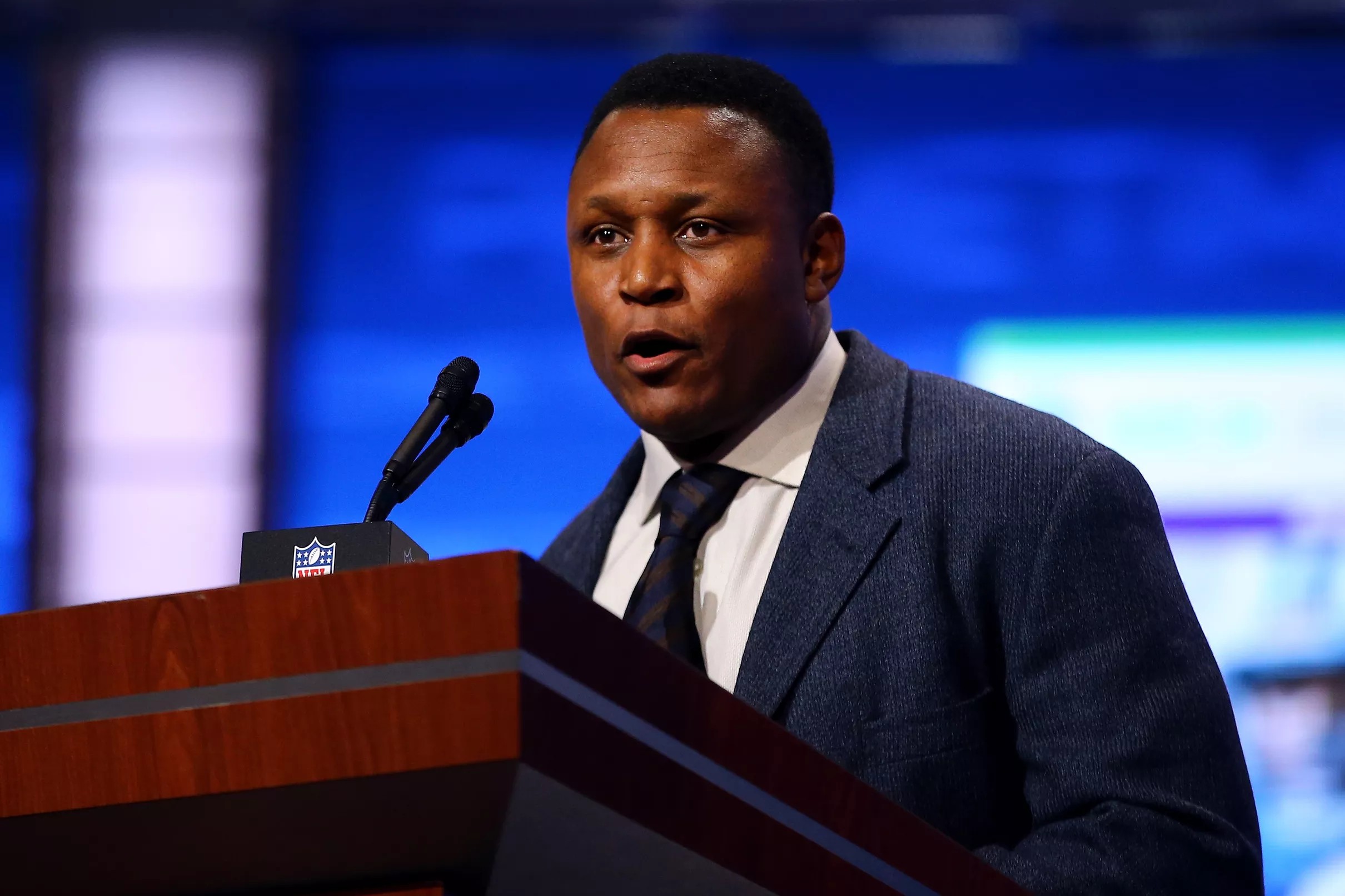 Ever tried catching smoke with your bare hands? That's what trying to tackle Barry Sanders felt like. An enigma wrapped in a riddle, Sanders was the Houdini of the NFL. For his sheer wizardry alone, he's earned his stripes among the top NFL Players of All Time.
9. Dick Butkus, LB (1965-73)
Before 'beast mode' was a thing, there was Dick Butkus. He didn't just tackle opponents; he devoured them. Among the grittiest NFL Players of All Time, Butkus set the gold standard for linebackers everywhere.
10. Joe Montana, QB (1979-1994)
Montana was the kind of cool you can't teach. Whether it was a game-winning drive or evading a sack, Joe did it with an unruffled demeanor. In the high-stakes world of NFL, Montana's grace under pressure solidified his spot among the best NFL Players of All Time.
Table of Records
| Player | Position | Record |
| --- | --- | --- |
| Tom Brady | QB | Most wins (243), most passing yards (84,520), most passing touchdowns (624) |
| Jerry Rice | WR | Most receiving yards (22,895), most receiving touchdowns (194), most receptions (1,549) |
| Jim Brown | RB | Most rushing yards in a career (12,312), most rushing touchdowns in a career (106) |
| Walter Payton | RB | Most rushing yards in a season (2,765), most rushing touchdowns in a season (27) |
| Peyton Manning | QB | Most passing yards in a season (5,477), most passing touchdowns in a season (55) |
| Lawrence Taylor | LB | Two-time Defensive Player of the Year, 10-time Pro Bowler, member of the New York Giants' Super Bowl XXI championship team |
| Reggie White | DE | Two-time Defensive Player of the Year, 13-time Pro Bowler, member of the Green Bay Packers' Super Bowl XXXI championship team |
| Barry Sanders | RB | Most rushing yards in a game (295), most 100-yard rushing games in a season (15), 10-time Pro Bowler, six-time All-Pro |
| Dick Butkus | LB | Eight-time Pro Bowler, six-time All-Pro, member of the Chicago Bears' Super Bowl XX championship team |
| Joe Montana | QB | Four-time Super Bowl champion, most passing yards in a Super Bowl (357), most passing touchdowns in a Super Bowl (3), eight-time Pro Bowler, five-time All-Pro |
NFL Players of All Time: Football…Expanded
And there you have it! The quirky, zany, and absolutely legendary rundown of the top 10 NFL Players of All Time. These gridiron gladiators set the bar so high that it's practically in the stratosphere. From end zone to end zone, they've given us memories, highlights, and sheer football magic. Here's to the legends! 🏈✨
See Also: NFL Power Rankings: Greatest NFL Teams of All Time